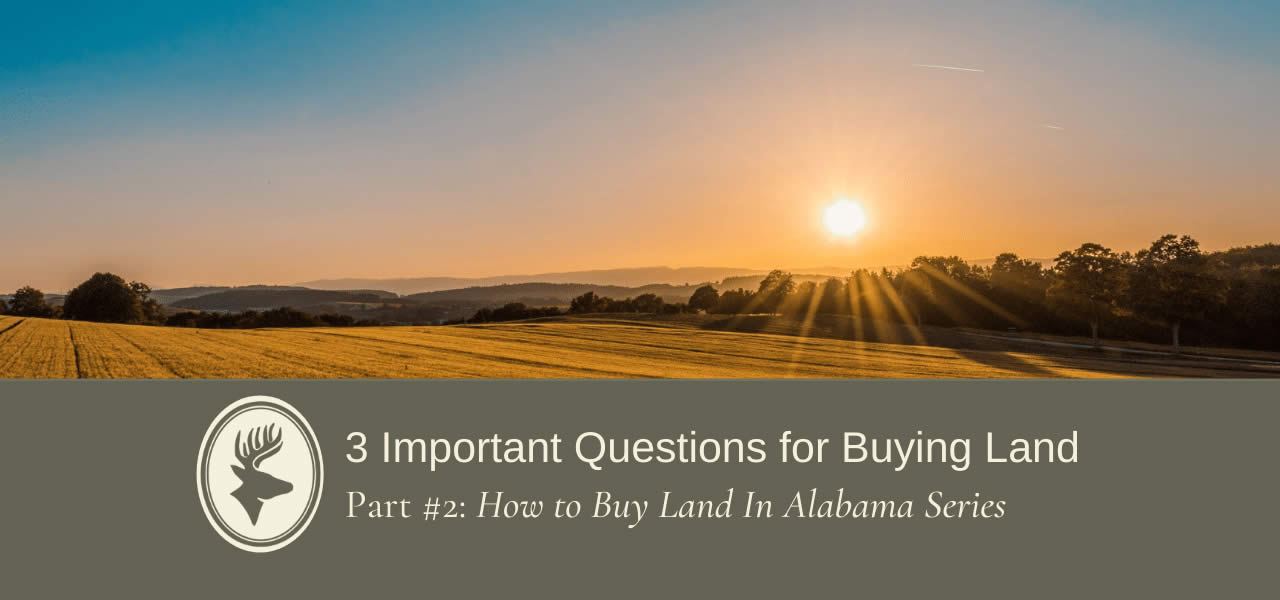 Welcome to the John Hall and Company How to Buy Land in Alabama Series.  This is part two in the series written by Hoke Smith. He helps us understand 3 important questions for buying land in Alabama. Click here to read Why Hire A Buyer's Specialist part one written by Pete Hall.
In this article, Hoke gives insights into buying land in Alabama from his years of experience living on the land, his education from Auburn University, and his time helping people buy that right piece of land in Alabama.
Have Questions about Buying Land?
Purchasing land does not have to be an intimidating or a foreign concept. We are here to help and answer your questions. First, download our checklist of steps for first-time buyers on How to Buy Land in Alabama. A checklist assists you in making informed and educated decisions. These decisions can mean the difference between you owning the property you always dreamed of or you not being satisfied with your purchase.
Alabama Land Buying Questions
The three main questions a buyer must answer when their search for the property begins:
1. What is your budget?
2. How will the property be used?
3. Where is the preferred location?
Answering these three questions keeps your search focused on properties right for you.
Establish a Budget
Take the time at the beginning of the process to research and establish a budget. Meet with financial advisors or explore options with financing. In Alabama, there are several "land banks" that specialize in financing for rural properties. They can also provide valuable insights on how to establish a budget in your search for land. Once a budget is established then you are really able to kick off your search.
Identify Land Attributes
When speaking with first-time land buyers, I ask the question "What is your vision or why do you want a piece of rural land?"
There are specific reasons people begin to look for rural land. Keying in on what your hobbies are and what you envision yourself using the property for is a good place to start. Once you have the big picture then key in on the attributes of the property.
List out the attributes a property needs to have, such as; a creek, pond, cabin, pasture, timber, wildlife food plots, topography, and any other attributes. Take the list of attributes and identify which of those are absolute necessities to make up your ideal property. The geological landscape in Alabama changes dramatically throughout the state. For example, if you're looking for the property to consist of a cold-water creek with rocky outcroppings then the coastal plains of South Alabama may not be the best place to focus your search.
Hone in on Location
Location is the most important of the three questions. Buyers should to be flexible when establishing a preferred location. There are areas within the states that are micro-markets where land values can be significantly higher. You may have to travel a little bit further to find a better bang for your buck!
Figure out where your ideal property would be located and then search outward from there. Preferred property attributes and location may need to be adjusted depending on which is more important to you.
We are here to  answer all your questions on buying Land in Alabama
The internet is a great tool and can provide valuable information. However, I highly suggest a real estate broker who specializes in the land to represent and assist you in searching, viewing and purchasing a property. A land real estate agent will provide invaluable insight for first-time buyers and help avoid mistakes when purchasing a property before it is too late.
An active land agent can help you buy land in Alabama.
Agents . . . 
understand what you may not be familiar with
keep up to date on the market values of the property
are thoroughly and knowledgeable to show you properties
identify potential problems
ask important questions to the sellers that may otherwise not be understood or revealed
assist in negotiations
assure that you are getting a fair deal
All in all, buying land in Alabama and purchasing a piece of rural land can be a much simpler process than purchasing a home. It doesn't consist of all the inspections and reports needed to close on a home. Once you have developed a budget, identified property attributes, and have identified a general location, then the search process becomes much easier and enjoyable.
Having a land agent on your side to assist you through the process results in a land buying process that is enjoyable and stress-free. Before you know it, that Alabama dream property will be yours!
-Hoke Smith
Download John Hall and Company's checklist for buying property HERE. These are the questions that every buyer needs to be asking before they make a purchase.