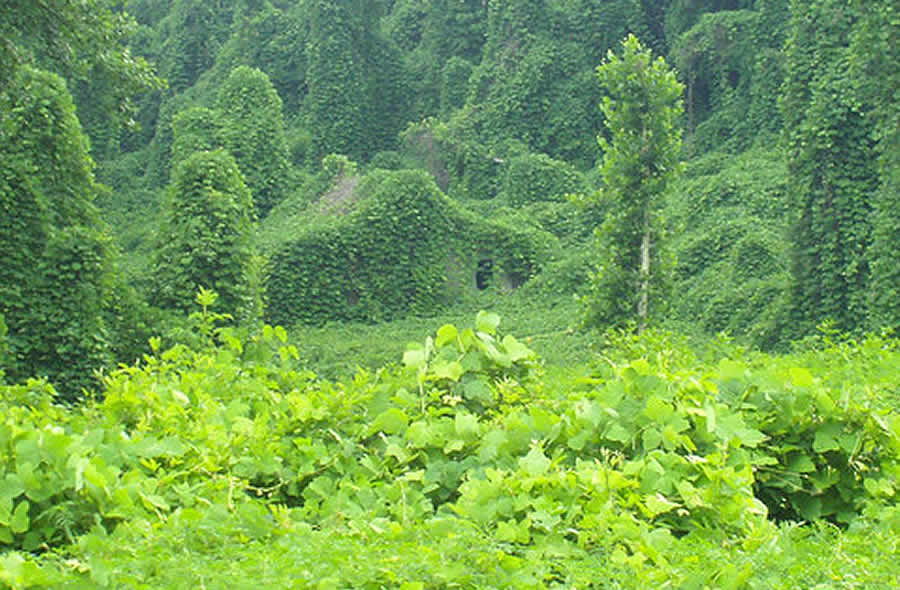 As a landowner, you spend countless hours working to reach the full potential of your property.  Many times, a tract of land can be overrun with invasive plant species in a surprisingly short amount of time. This can cause a detrimental effect on your timber value and the recreational/aesthetic aspects of your land. There are countless numbers of undesirable plant species that could be found on any one piece of property, but being able to identify and manage the more problematic types can be very beneficial.
The first species that comes to mind and that arguably has caused the most impact in Alabama would be Kudzu. During the spring, kudzu can grow nearly a foot a day and can cover anything from trees to buildings. It is vital to begin herbicide application during the early stages before taking over pine plantations or any other desirable areas.  Originally introduced as a favorable species for erosion control and forage for cattle and livestock, it is now commonly known as "mile a minute vine" that has invaded the southern landscape.
The second invasive species that has had a significant impact on the South is Cogongrass "imperata cylindrca".  Like kudzu, this plant is highly invasive and has had adverse effects on our plant and animal communities. Identification is the first step in the proper control but can be tricky due to its similarities with non-harmful native species.  Its most commonly found along road-sides but this pesky plant is also known to completely take over pine plantations and can adversely affect cash crops such as corn and cotton. Many undesirable species are often controlled by fire, but cogongrass, naturally causes the plant to thrive in its environment. This causes increased fire intensity resulting in damage to existing timber.  Persistent herbicide application is the most effective way to manage along with early detection.
These are just 2 of the important undesirable plant species that can affect a tract of land. Other plants of note to consider when managing property or purchasing a piece of the property include Chinese Tallow Tree, Chinese Privot, Mimosa (silk tree), autumn olive, and even aquatic species. All of these can negatively affect wildlife and the investment potential of a tract of land. Detecting these undesirables early allows for cheaper eradication control and more time spend doing the things we enjoy in our great outdoors.
Robert Smith
(251) 564-1312 
Robert@johnhallco.com