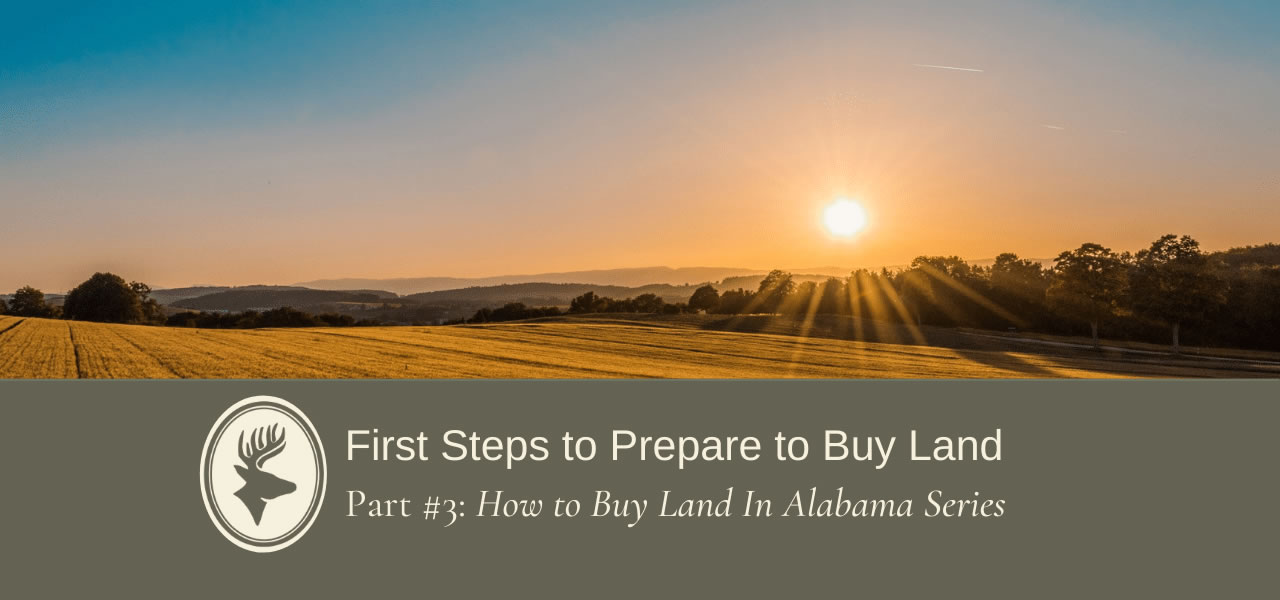 This is the third part of the series on Buying Land in Alabama. John Hall outlines how to prepare to buy land in Alabama. Mr. Hall's advice comes from 35 years of helping buyers find their perfect Alabama property.
First Step to Buy Land In Alabama
My wife grew up on a farm in Huntsville, Alabama, and I grew up on a farm in Cecil, Alabama. My dad also owned the local corner store. He instilled in me a love for the land, business, family, and faith. My wife and I have passed on that legacy to our boys and grandchildren.
Today it is a blessing for me to have a business that helps individuals and families find their perfect piece of land in Alabama. I have been helping people for over 30 years invest in our state. There
are a few things I have learned in my time about land and selling land, especially when it comes to getting the recreation land that you have dreamed of for your family.
Think about your perfect property for you and your family and friends. Now, make a list of all the amenities that you want if you could find the perfect property.
What are your family's land needs?
Imagine your family's needs for the next 15 years. What type of property will fill those needs for them to grow into adulthood? 
What values and hobbies do you want to instill in your children?

How much time and sweat equity do you have to invest in the land?
In my book, there is nothing better in this world than teaching children how to live on the land through horticulture, learning about the environment, and stewarding the land well.
What do you envision on the Alabama land that you want to buy?
cabin
fishing lake
barn
established wildlife plots
hunting
bird trail
garden
home
animals
Land Buying Costs
Keep in mind a preferred "turnkey" family hunting/fishing property costs much more than "raw" land. Do you have the skills, resources, time, or expertise to build out your own amenities? Some buyers have the desire and expertise to construct amenities which takes time but saves a lot of money. We have a list of trusted partners to assist our clients within budget and build the land they desire because we want our clients to have the resources to build their dream recreational land.
Connect with an Agent
Once you have a vision and have identified your desires for the property, this is a good time to reach out to a John Hall and Company agent. I do encourage buyers to enlist the services of an experienced real estate land agent.
The term is a Buyer's Agent and it costs you nothing!
Review the John Hall and Company agent page and pick out an agent that best fits your needs. Review their "bio" on their website to see which agent with whom you feel compatible. Pick one and call him to discuss your property requirements.
Your agent will pull up properties that they know best match your criteria and desires.  Your agent will diligently research the properties and set up tours to help you assess the properties. When you are ready to buy, your agent will prepare the sale contract and assist you with the details to a successful closing.  
Please give John Hall and Company a call at 334.270.8400 and speak with one of our experienced sales agents to discuss your perfect property.
Happy Hunting!
 -John E. Hall, Jr. CCIM
Download John Hall and Company's checklist for buying property HERE. These are the questions that every buyer needs to be asking before they make a purchase.