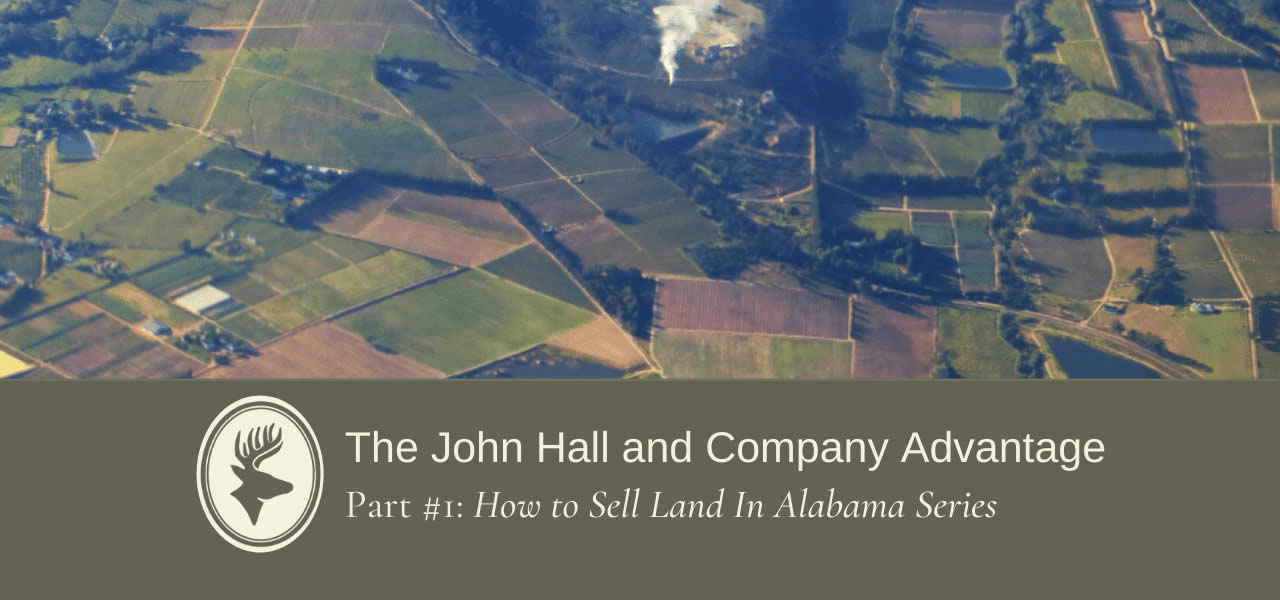 Welcome to the first part of a series entitled Selling Land In Alabama. In this first article, we discuss the John Hall and Company Advantage when it comes to selling land across Alabama. Pete Hall outlines why hiring one of our agents gives you a good return on your investment
At John Hall and Company, we have one simple goal for selling your land. We endeavor to command the highest possible return on your investment. That is to say, we market to a class of buyers who are willing to pay a premium for the time, effort, and stewardship you have poured into your property.

A Family Land Legacy
Selling land is not just a job to me and our agents. It is a call. Moreover, serving our clients is our reward.
I am a 4th generation landowner.  My great-grandfathers shaped my values and love for the land. One great-grandfather farmed cotton and owned a cotton gin in North Alabama. The other great-grandfather bought acreage for his timber and cattle operations in Montgomery County. My father, John Hall, was raised on property outside of Montgomery. He taught his three sons to hunt and care for the land. Certainly, the lessons we learned through conservation and good stewardship fueled our passion for the land.
Selling Land In Alabama Is Our Passion
John Hall started our company 35 years ago upon the foundations of INTEGRITY, SERVICE, and THE GOLDEN RULE
From the beginning, my father hired specialists whose passion reflected his own. Our agents adhere to the core values he outlined so many years ago. Both our staff and clients benefit from the legacy my father established from 35 years in commercial real estate. Likewise, the relationships of goodwill he cultivated with landowners and everyone in the industry have made us the company we are today.
Clients have a significant advantage using our first-hand understanding of all types of land transactions in Alabama. We have decades of experience selling:
Hunting plantations
Timber investments
AG and cattle land
Conservation easements
Mini-farm
Land investments
We know what it takes to make our clients succeed in selling all types of properties in Alabama.
The Right Real Estate Agent Is Important
After deciding to sell your land, the most important decision you will make is the Real Estate Broker you hire. Currently, the industry is overcrowded with corporate land companies hiring weekend warriors or anyone willing to get a real estate license to sell land. The industry has lost its heart and soul. You deserve a real land specialist with the local market knowledge and technological marketing expertise. And, you deserve the difference that results from using John Hall & Company. 
Choose An Agent Who Knows The Local Market
There are a host of influences that can affect your property's market value. Some influences you can control, but others you cannot control. You may not be able to choose the timing you sell or costs like pine pulpwood.  However, a good broker is one who has a firsthand understanding of the market. They assess all the variables on your behalf. 
Who sells your land makes a direct difference in your net profit.
At John Hall and Company we understand the significance that the power of information has on your net profit.
Click here to learn more about our free "Broker's Opinion of Value" we offer future clients.
3 Advantages to Hiring JHC to Sell Your Land in Alabama
Firstly, our agents have an intimate familiarity with the markets we serve. We put boots on the ground. 
Secondly, we understand there are outliers and characteristics of certain properties that are rarely taken into account by most brokers and appraisers. For instance, there are certain areas where we find micro-markets within the same county.  This allows us to justify a much higher bare land value than another property.
Examples include:
Soil- Better soil on the land will produce better food sources and ultimately, bigger wildlife.

Location- The Bird Dog Field Trials started in 1920 in Union Springs have influenced the value of the properties in the area. Over time, the Field Trials attracted a wealthy clientele of purchasers willing to pay a premium in this coveted area.

Surroundings- A seller may own a smaller hunting tract. However, their land is surrounded by larger landowners who manage their plantations for trophy wildlife. This increases the value of the hunting land.
Lastly, we help sellers take into account higher building costs. Including, permitting issues associated with creating a lake and other amenities.
These are just a few of the areas we take into consideration with assessing the land's worth and determining the market value. We justify the best price possible for your property.
Relationships and Data Matter
We have relationships across the state within the real estate and land industry. My father has over 35 years of investing in Alabama by treating people fairly and running our business with intergity. In addition, our trusted relationships with appraisers and financial institutions allow our clients to get excellent customer service throughout the selling process.
John Hall and Company has an incredible database of comparable sales that we have collected from transactions spanning three decades. The data, knowledge, and experiences give us an advantage over other brokers and agents. Most importantly, when negotiating a price we have the years of data to justify it.
Holistic Marketing Plans
The biggest tool in our arsenal is our holistic marketing plan we have implemented to help identify and target buyers. Quite simply, our strategic reach is second to none. We are continually educating ourselves to remain on the cutting edge. Marketing in this day and age is constantly evolving. After creating a personalized brochure of our client's land, we advertise the listing on a host of aggregator websites. This provides us the opportunity to expose your land on a local, regional, and national level.
Digital marketing is important, too. We attract the right buyers by utilizing social media campaigns, Search Engine Optimization, drone videos, and interactive mapping software. In addition, newly listed properties are blasted out via email. The email blast reaches thousands of past clients and persons interested in acquiring land. Plus, every land broker and residential agent in the state receives a copy of the marketing brochure. We encouraged them to bring all offers to the table for consideration.
Start Today
Our agents love the land and understand that the value of investing in land is more than financial. Memories are made for a lifetime. Families pass down their values through hunting and good stewardship. This cannot be measured in dollars and cents. Subsequently, the financial gain that results from investing in a hunting plantation is realized when the land is sold.
In conclusion, when it comes time to sell your land you can trust John Hall and Company to guide you from the initial assessment through closing. I welcome you to take advantage of our knowledge and unique skill set in order to maximize your investment. Call me today to get started with John Hall and Company.
-Pete Hall, (334) 312-7099
Read additional articles in this series:
 How Does Selling Land Work? by Hoke Smith (Part 2: Selling Land In Alabama)
Selling Land in Alabama–  What is My Land Worth? by Josh Hall (Part 3: Selling Land in Alabama
What Does it Cost to Sell Land in Alabama? by Robert Smith (Part 4: Selling Land in Alabama)
Preparing Your Land To Sell to a Recreational Buyer by John. E Hall, Jr (Part 5: Selling Land in Alabama