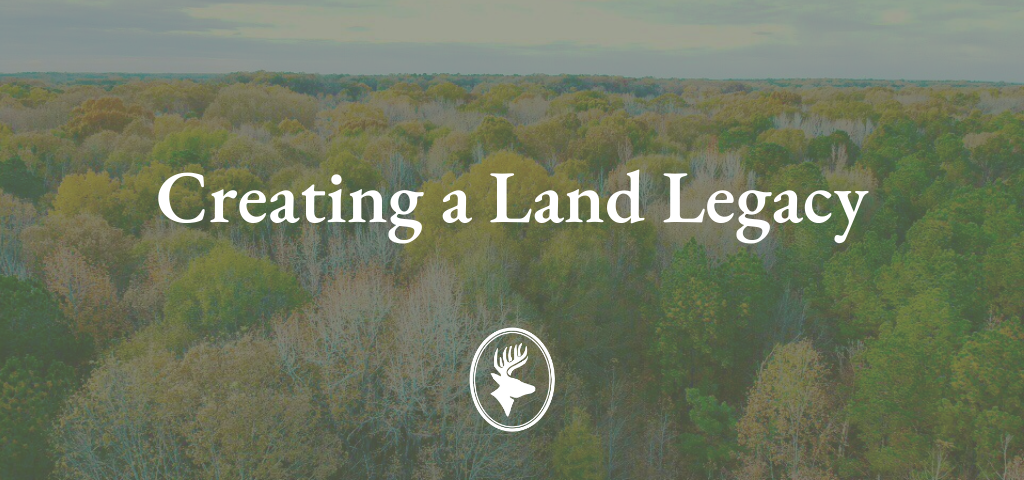 As we celebrate thirty-five years of helping Alabama families buy and sell land, we think it is important to share part of why we are passionate about land ownership. Pete Hall, son of John E. Hall Jr. and part-owner of John Hall & Company, shares how land ownership can help you create a legacy for generations to come.
When you think of the word legacy, what comes to mind? You might immediately think of the money you plan to leave for your kids or grandkids. Maybe, you think about passing down family heirlooms–the diamond ring you gave to your wife fifty years ago or a prized hunting rifle. Moreover, you might think of a legacy that can be shared long after you are gone as your values are instilled in those you love.
While land can be a major financial asset, the value of land is created by much more than just the dollars and cents. Land is connected to memories, experiences, and feelings. It can also be used to create traditions that pass down your family's values. Whether it is the place you take your grandkids and their friends on an annual fishing weekend or your hunting plantation is used to provide a retreat for those who might need an escape from their day to day, the values shared while on the land makes it one of the greatest investments you can make to shape your legacy for future generations.
At John Hall & Company, we believe land ownership allows you to pass down your values as well as your assets.
Making Memories with Family and Friends
As a fourth-generation landowner, a love of land is in my blood. Some of my fondest memories have been created while on my family's land. I've been shaped by my experiences hunting, fishing, and spending quality time with family and friends.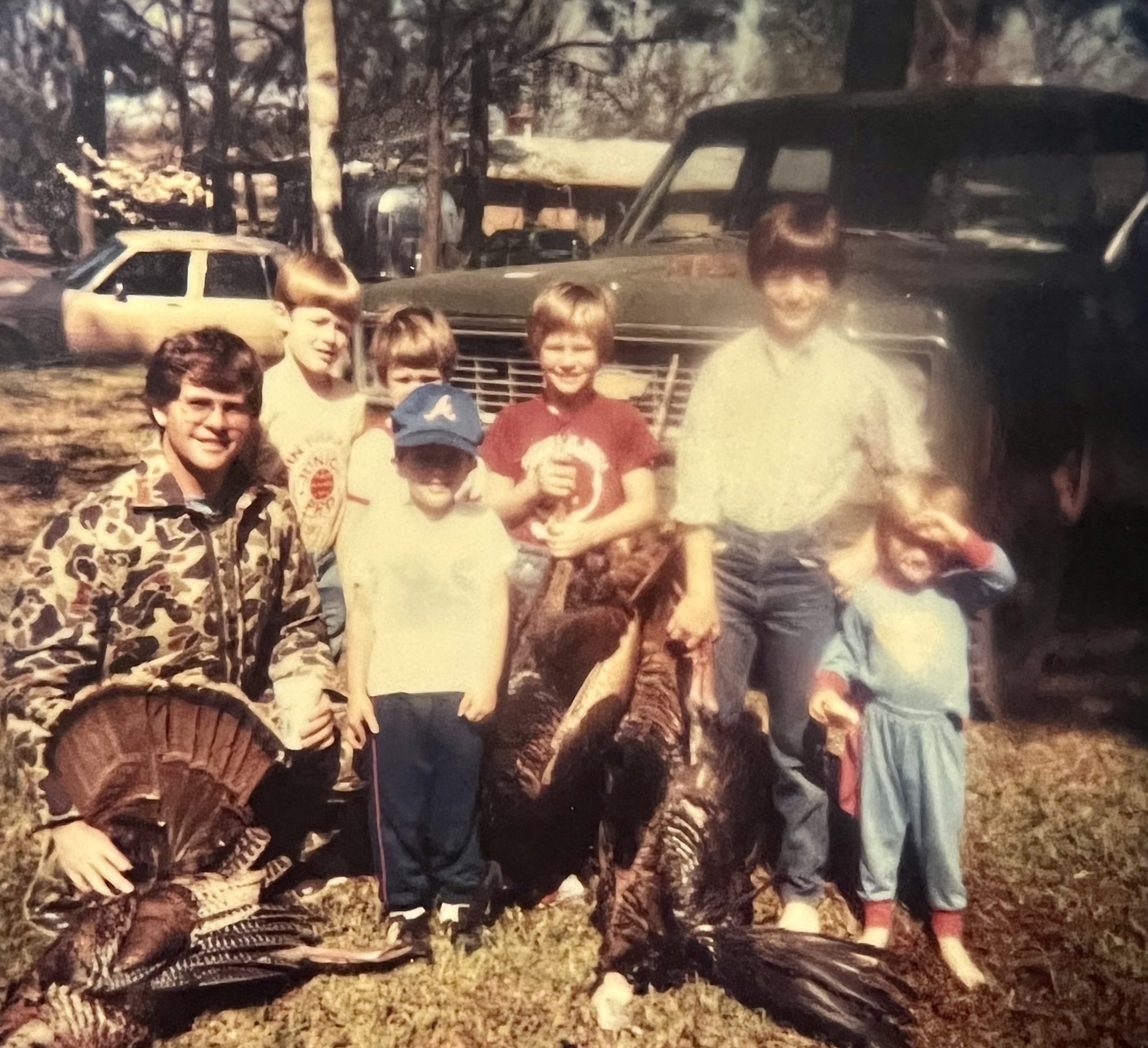 Hunting & Fishing
One thing I love about living in Alabama is the great hunting and fishing.
There is something about spending a cold morning in the woods together that forges an unforgettable experience. Hunting allows you to escape, be still, and enjoy God's creation. Every hunter knows you also cannot beat the thrill and adrenaline that comes with taking down a big buck you have been watching on your trail camera for weeks.
Alabama's lands boast the opportunity to hunt deer, wild turkey, quail, waterfowl, and more. While some hunts do not allow for a lot of conversation, others give the perfect opportunity to connect; whether you are talking business or listening to your teenager open up about the struggles of high school, hunting provides a great chance to deepen relationships.
Fishing is a sport that can be enjoyed year-round in Alabama. Similar to hunting, it allows you to escape a busy life and enjoy the peace of nature. We have also all heard the saying, "if you give a man a fish, you feed him for a day. If you teach a man to fish, you feed him for a lifetime." While cliché, I have seen so much value in teaching my kids about fishing. When my son, Luke, was younger, my dad took him out fishing on the dock and caught a video of him reeling in a "big one." The joy and excitement they shared at that moment were palpable.
Quality Time
Everyday life is busy and filled with noise. No matter the season, land provides a perfect place to enjoy distraction-free time with family and friends. There is something special about sitting around a campfire after spending a day in the woods or on the lake. As you share food and stories, you quickly see the benefit of escaping off the grid. I have seen myself and others laugh and open up about trials and triumphs during my time at the hunting plantation.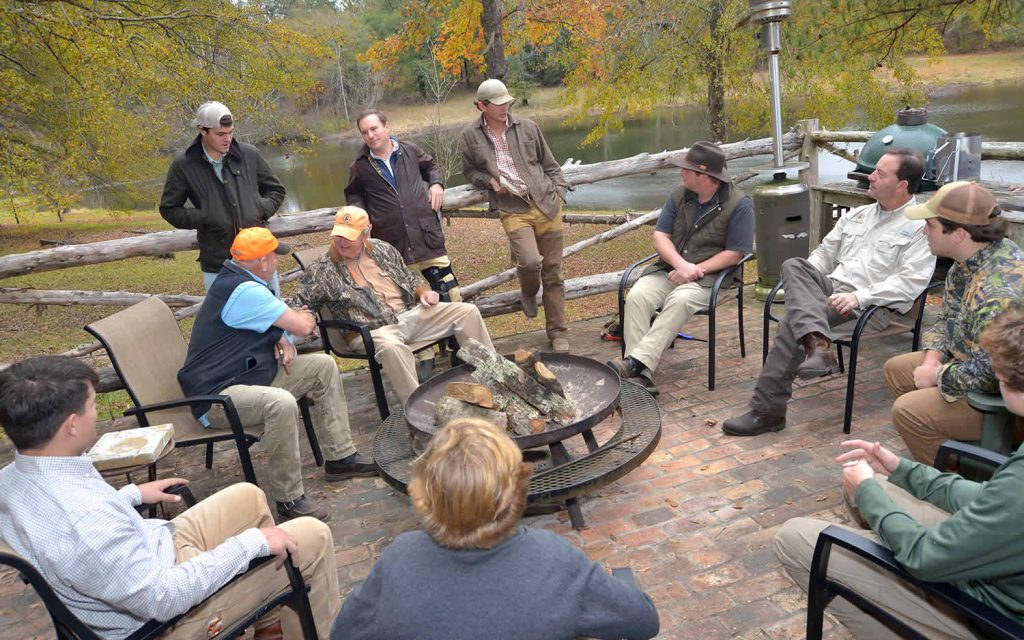 We have spent Thanksgiving at our family farm for many years. It is a time we all love and look forward to because it brings the extended family together to create memories and share a meal. The tradition has already left a lasting impact on my boys and me. I know it will remain a part of our family's future.
Land ownership is about family and friendship. As you hunt, fish, and spend quality time together, you create memories to last a lifetime.
Recently, I was able to take a group of my son's friends and their fathers out to the land for a weekend trip. We hunted and enjoyed meals together, but more importantly, we spent quality time fellowshipping without distractions. I know we all walked away refreshed and with new memories.
Exposure to New Experiences
Education Opportunities
There are so many opportunities to teach and train the next generation while spending time outdoors. Alabama's natural resources provide a great classroom to expose people to new things and experiences. It can open their horizons to opportunities and provide the space to teach them important values.
Conservation is a vital lesson that reinforces your values. It teaches kids about respecting the animals and the harvest. Bag limits are set to protect populations and to also help when there is an overabundance of a certain species. As you follow laws and utilize guidelines, you are showing respect for nature and authority. Cleaning and eating what you kill or catch can also display respect for the animal and being a good steward of the resources it yields. Hunting and conservation also give an opportunity to teach gun safety, emphasizing care and precaution while handling firearms.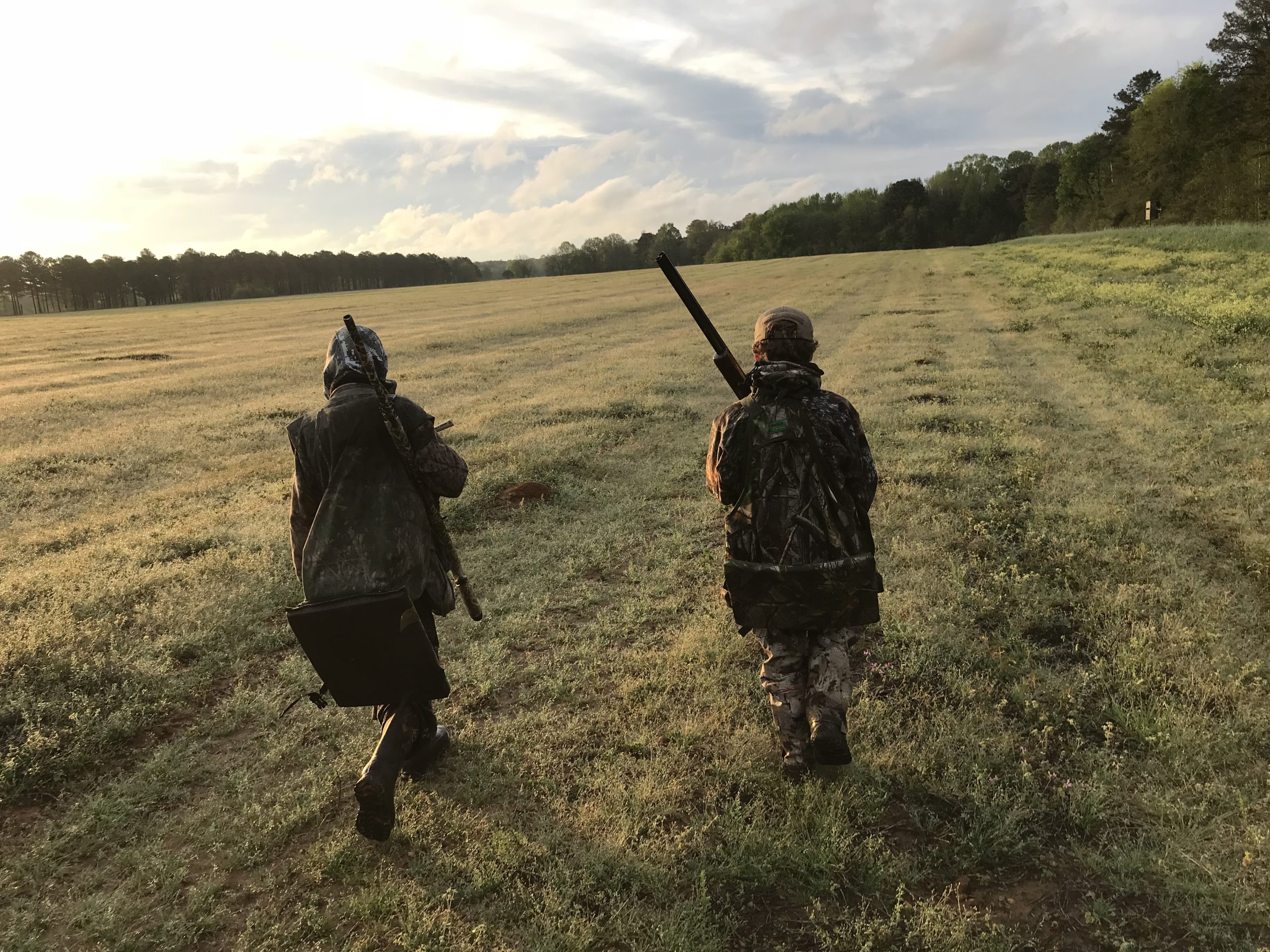 As landowners, we should be good stewards of our land and its resources. As you care for your land, you can invite your kids and grandkids to be a part of the process. Whether you are teaching them about the biodiversity of the land or showcasing best practices for a prescribed burn, good stewardship of resources shows your family you care about more than just what the land can do for you. You care about protecting and preserving it for future generations.
Land ownership is educating the next generation to properly conserve and steward Alabama's beautiful lands. It is passing down your values through hands-on lessons.
From an early age, my father, John E. Hall Jr., used our family's land as an education opportunity for me and my brothers, Josh and Luke. He taught us how to hunt and how to safely use a gun. He taught us about conservation and stewardship. Most importantly–through the many lessons, he also passed down his values to us. As we took care of the land, I learned about hard work and leaving God's creation even better than I found it. As we hunted, I learned more about integrity and respecting wildlife. As a father to two young boys, I'm already working to pass down these values and the love of land to my sons.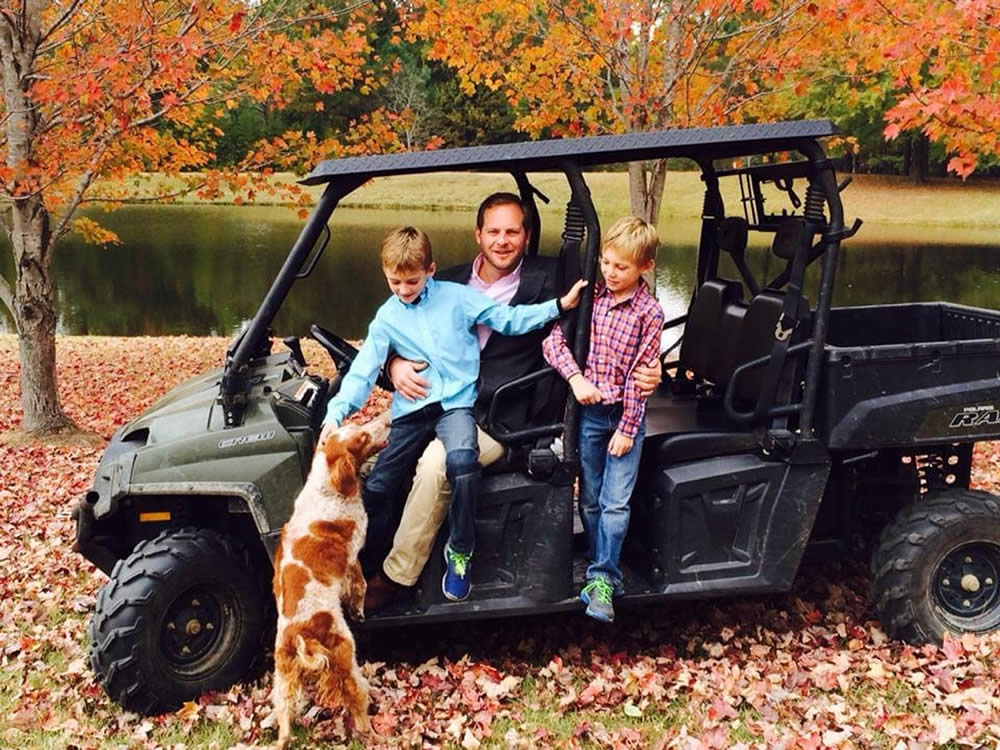 Financial Legacy
While a land legacy is shaped by much more than just the finances. I would be remiss if I did not mention passing down land through a family can be a financial gift for future generations. It is important to have a will to ensure your asset is passed down in the way you would like and your wishes for the land are carried out. Make sure your expectations are laid out so it does not cause feuding among your family.
Oftentimes, the financial gain is not seen or realized until the land is sold. While you own the land, there are many ways to add to the enjoyment of your land while also enhancing its financial value. Whether you build a lodge your family can use for weekend getaways or plant timber that can later be sold, it is important to think about how you would like the property to serve your family–now and in the future.
When the time comes to sell the land, many families experience a large profit. John Hall & Company's brokers can help you or your family members reach your financial goals for the property. We have extensive experience with mediation and land division; we can also connect you with other experts to help you maximize your financial gain from the sale of the land. If you are interested in using the profit from the land to buy another piece of property, a 1031 Tax Deferred Exchange can help save on taxes. The procedure allows you to sell the land and buy like-kind property while deferring capital gains tax.
Land ownership is leaving a financial gift for your family even after you are gone.
While there is a large financial benefit to being a landowner, the legacy it helps create has many layers. I would not be the man I am today if I was not raised on land. My character and values have been shaped through my time working, enjoying, and appreciating God's creation, and I am already seeing the benefit with my children.
It brings me great joy to help other families build their land legacy. As a family business with more than thirty-five years of experience, John Hall & Company's brokers are ready to help you find the perfect property. Give me a call today, and let me help bring your vision to life.
 – Pete Hall
We would also love to hear from you! As you can see, we think the real #valueofland comes from enjoying it with family and friends. If you would like to be featured on John Hall & Company's Facebook and Instagram page, email emily@johnhallco.com your picture and why you love owning land in Alabama.