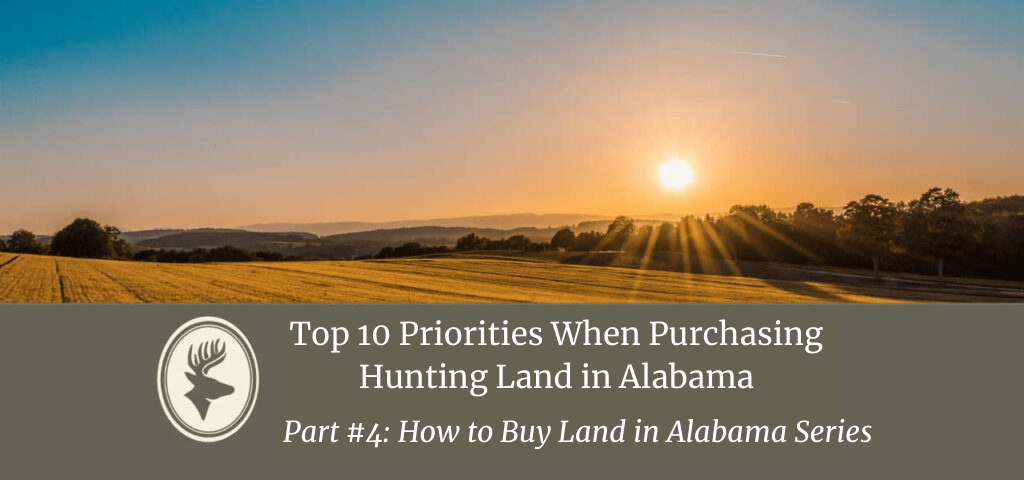 Welcome to the John Hall and Company "How to Buy Land in Alabama Series".  Pete Hall, John Hall and Company co-owner, shares the value of hiring a Buyer's Specialist when buying land in Alabama. Pete Hall answers the question, "Why Hire A Buyer's Specialist?" 
Purchasing hunting land is a large investment and commitment. You want to be sure you have a partner you can trust to guide you through the process. John Hall and Company is here to help! In the fourth part of the Buying Land in Alabama series, we will walk you through the top 10 priorities to consider when purchasing land in Alabama.
Price Range
Before you consider purchasing hunting land, it's important to review your budget. Will you be writing a check or financing the land purchase? Crunch some numbers and see what you can reasonably afford. Having a price range in mind before you start the process can help you narrow down the ideal land for you. In addition to setting a purchase price range, it's also important to consider additional updates the hunting land might need.
Need a little help figuring out your price range? John Hall and Company can connect you with lending resources to help you start your search with confidence.
Location
Just like with any real estate transaction, location is key and one of the first things you should consider. How often will you be traveling to the hunting land? Depending on your answer, you want to consider how long it will take you to get to the land. The closer it is to home, the easier it will be to hunt more frequently. You don't want to spend more time driving to the land than you spend hunting. If you already have a favorite area to hunt, start by looking for property near the area.
Accessibility
Accessibility can play a major role in how long it takes to get to your property from home. Does the land have access from major highways and interstates? You probably don't want your land too close to the city, but you want to be able to easily get to your property.  Depending on amenities on your property, you'll also want to consider the proximity of a hotel.
Internal Road Systems
In addition to accessibility, it is also important to consider the accessibility of your property within the boundary lines. An internal road system allows you to access all the features your property has. Creeks, wildlife food plots, your favorite hunting spot, etc. Having internal roads can be the difference in allowing you to have full access and usage of your property.
Quality Timber
Evaluate the timber on the property. Timber can make up a large portion in the value of the property. Different types of timber can dictate what types of wildlife will use the property. For example, oak is a source of food for deer and can keep them on the land.
Creeks or Ponds
It's important to assess if the hunting land has creeks or ponds. Water is essential for wildlife survival. Ponds also add additional value because they can be good for both hunting and fishing.
If the land does not have a creek or pond, you might want to evaluate adding a water source. This should be factored in when considering the cost of the property, as it can be an additional expense.
Wildlife Food Plots
Just like water, a food source is essential for attracting wildlife. Consider the trees, fruit, and bushes already existing on the property. Are there any existing food plots on the land? Based on the availability of food and the size of the property, you can determine if you'll need to add any food plots and where you should add them.
Amenities
You should prioritize any amenities you feel are essential to you. Take a moment to think about how you, your family, and your friends will use the hunting land. Are you hoping to use the hunting land as a weekend getaway? It could be helpful to seek out land with a cabin. If it doesn't already have amenities like a cabin, home, or barn, you want to be sure to consider if there is a good place to add them and if you can afford the additional expense.
Acreage and Size of Surrounding Landowners
Neighbors and surrounding land should also be considered when purchasing hunting land in Alabama. Observe the nearby properties. Ask questions about how or what these properties are being used for. Neighboring and nearby properties can influence value, wildlife, and your enjoyment of a property.
Accessibility of Utilities
Most people want to have access to utilities like power and water on their hunting land. You will want to prioritize finding out if the land you're looking at has access to utilities. If it does not have utilities, it's important to research the feasibility and cost of adding them.
As you can see, there are a lot of priorities to consider and evaluate when purchasing hunting land in Alabama. Your wants and needs are unique to you and how you plan to use the land. With more than 35 years of helping buyers and sellers, John Hall and Company can work with you to determine your top priorities and assemble a list of everything on the market that fits within your parameters. Even better, using us as your buyer's agent costs you nothing!
Ready to get started? Call us today!