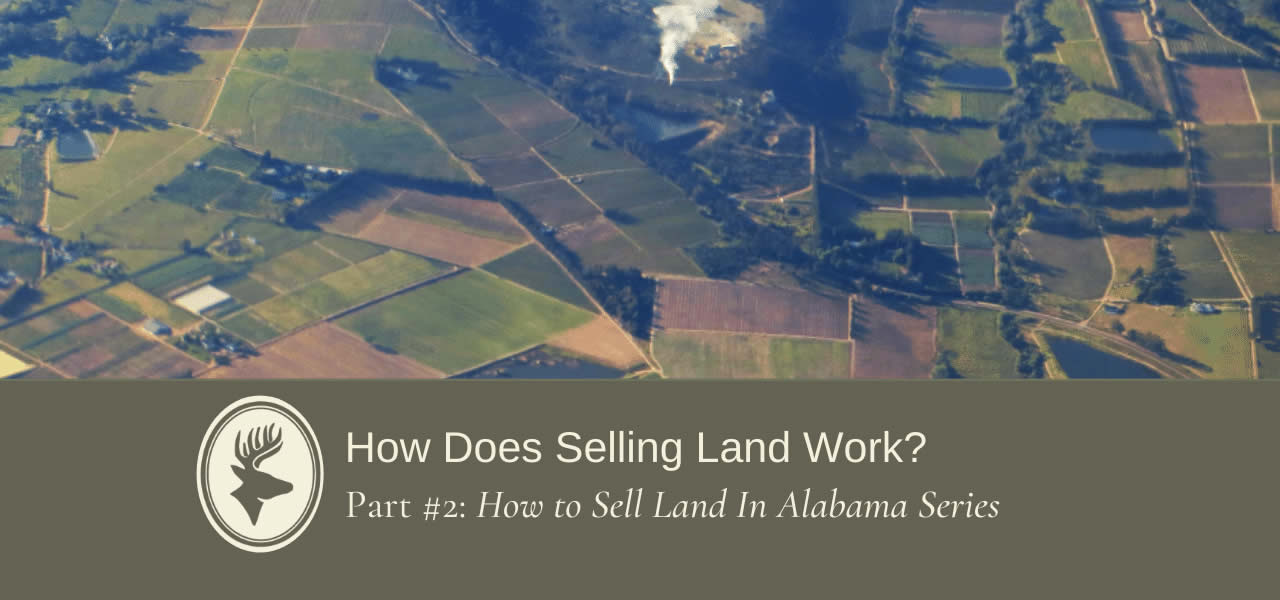 Welcome to the John Hall and Company Selling Land in Alabama series part two. Today, agent and land expert Hoke Smith shares "How Does Selling Land Work?"
Selling land can be intimidating or even a foreign concept to those who have never sold a property. Selling land can be complicated, but it doesn't have to be.
The following information is for those who ask themselves the questions:
"Where do I even begin?

"What are the steps I need to take in order to acquire the best value I can for my property?"
John Hall and Company agents are here to answer your questions. Above all, to provide you with the knowledge and confidence you need to make educated decisions. Ultimately, it will benefit you at the closing of the sale.
Know What You Have to Sell
Firstly, the landowner needs to know what they own. A good understanding of what your property has to offer is necessary to maximize the monetary value.
The location of a property can make a big impact on a property's value. Depending on the location, the demand may be higher or lower than in others areas.
Clearly, identify the best use for the property. Is it a potential development property, a home site, timberland, agricultural property, recreational property, or a combination of these?
John Hall and Company is happy to help landowners wanting to sell their property understand the different aspects that will affect their property's value. We do this by offering what we call a Brokers Opinion of Value or "BOV". To see if you qualify to receive a complimentary BOV, complete the form here…
Know the Value of the Land You Have to Sell
Secondly, after you have listed all the aspects and potential for the property identify the value of each aspect. This is where you will need assistance.
John Hall & Company is here to give our professional opinion with data to back up our statements. In addition, we have an extensive list of professionals who can value the individual characteristics of your property to help come up with a total value for the property. Resource contacts include certified foresters who can provide timber values and appraisers who can put together an official appraisal of your property. We use recent sales of properties that are similar to yours and in the same area to identify what other properties are selling for.
Click here to learn more about our free "Broker's Opinion of Value" we offer future clients.
Know Your Sells Broker
Once a landowner has a good grasp and understanding of their property, the next question is "How do I sell my property".
Thirdly, look for a firm that specializes in what you are selling. Real estate brokerages that are specifically catered to selling properties similar to yours are who you need to hire.
Home to sell? A residential real estate agent may be your best option.
Commercial building, such as office space? It would be most beneficial to seek a commercial real estate brokerage.
Recreational hunting property, timberland property, farm, or another type of rural property, with or without a house? A real estate brokerage that specializes in the specific category (such as John Hall & Company) would your best investment is selling.
How Does Selling Land Work?
We encourage sellers to reach out to us and let us teach you how selling land in Alabama works. We want you to ask as many questions about our company and people as possible. You need to know us. Moreover, we want you to feel you can trust and depend on us to represent you and your property.
Buyers for land in Alabama come from all over the country. John Hall & Company's marketing strategies are put in place to make sure that we are able to gain maximum exposure and in front of potential buyers.
Know Your Marketing Plan
Once you identify the broker, the next step is listing your property on the market.
A sales plan is put in place and an initial listing price is established. Next, the real estate brokerage compiles all of the marketing materials and begins to advertise the property. Ask to see monthly marketing reports on the traffic your listing is receiving through website views, phone calls, emails, etc.
When offers come in, that is the time to consulting with your listing agent and listen to their opinion. It is your real estate agent's duty to represent you with your best interest in mind. Because your agent has knowledge of the market and experience in negotiating deals, they will have insight on how to navigate through the negotiating. In turn, getting you a contract and is beneficial and pleasing. That real estate agent should work with you. Keeping you updated through the due diligence period of the contract and on to closing.
Know Our Number
Selling land can be complicated, but it doesn't have to be. The best advice for a landowner looking to sell their land is to find a real estate brokerage that specializes in selling property such as theirs. They should find an agent they can trust and depend on to represent with their best interest in mind.
The end result should be you, as a seller, getting up from the closing table knowing that you got a good deal in a timely manner!
-Hoke Smith