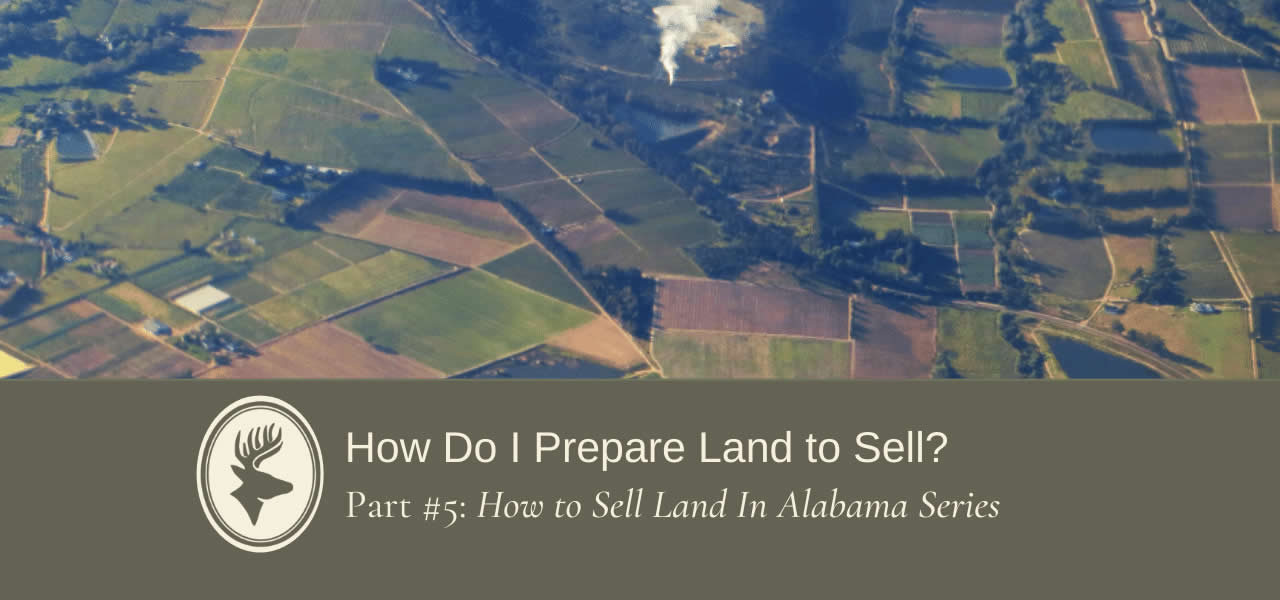 Welcome to the John Hall and Company Selling Land in Alabama series. In part five, John Hall answers the question "How do I prepare the land to sell? Our founder personally has over 35 years invested in selling land and commercial real estate across Alabama.
There are several tasks most people do when they prepare to sell their home. This item might include: service the HVAC; paint and repair rotten wood, update the landscaping, and straighten up furniture and closets, etc. A similar concept applies to preparing your land for sale, but it is a vastly different process than selling residential property.
Land properties are not the same. You would treat a 60-acre wooded tract differently than a 400-acre recreational tract with amenities.
Selling Land- Small Wooded Tract
Let's begin with preparing a 60+/- acre wooded tract for sale. Firstly, the owner should consider thinning some timber and using the money to install a good trail system and 1 or 2 wildlife plots. Secondly, getting a boundary survey or at least mark each corner clearly is recommended. It is important that there are no boundary line disputes or easement issues with neighbors. Finally, a sturdy metal entrance gate with a lock is a nice feature.
John Hall and Company can help the seller to find the right people to do the improvement. We have several services we offer to our sellers. For example, if an owner doesn't know how to hire a logger and/or contractor to do the improvements we have experts who we know and trust. The main reason to do this upfront work is
"You can't sell a tract unless you can show it."
If the owner does not want to prepare the tract as we have recommended, he can sell it strictly to a timber buyer. The seller can expect to get 25% to 30% less i.e. $400-$500 per acre less at the closing of the sale.
Selling Land- Large Land Tract
Now, let's discuss a 400 +/- acre tract of recreational property. This property has a cabin, equipment, shed, a 3 to a 10-acre fishing lake, and wildlife plots with permanent deer stands. This type of property is a land broker's dream listing when it is maintained and "shows well."
"What should the owner do to prepare this property for sale?
Selling a large tract of land may require similar action to the small tract discussed earlier. The owner should mark all property lines and corners and install "No Trespassing" signs. It is always helpful to have a boundary survey. The seller can expect to pay $5,000 to $7,500 for a survey. A survey is the only way to determine the exact acreage. A property this size may sell for $3,000 to $3,500 per acre.
Land management before a showing will make a huge difference in the selling price. Trails need to be bush hogged and "limbed up". Wildlife plots need to be planted in winter or mowed in summer. Pine stands need fire lanes established.
Proper care of lakes, streams, and ponds on the land is important. The fishing lake should have some clean, mowed areas along the bank, a well-maintained boat dock, and fish feeders. Fertilizing and adding lime to the pond will provide plankton for a healthy fish population. Hopefully, the pond provides good fishing because it is such a joy to see a 3-year-old catch his or her first fish!
Click here to learn more about our free "Broker's Opinion of Value" we offer future clients.
Selling Land- Preparing Structures
Evaluate buildings on the property. Do the required maintenance and renovations to bring the building up to standard for the selling price.  Any house or cabin on the property needs to be in very good condition with no roof leaks, no rotten wood, etc. The HVAC, plumbing, and appliances should be in good working order. Equipment shed or barns need to be cleaned up with all equipment/tools neat and orderly.
The owner should incorporate best management practices for his land, timber, and wildlife. Not every practice is cost-effective for every owner. My team can help you assess what investment will be best for you to get the best return.
You must create a good first impression for your land broker and your prospective buyer when they arrive at your property!
-John E. Hall, Jr. CCIM