The John Hall and Company's "Best of 2023 BuckMasters Expo" picks, curated by Pete Hall, are here. Our time at the 2023 BuckMasters Expo in Montgomery, held at The Renaissance Convention Center, was so much fun. Moreover, we had insightful conversations with Alabama's deer hunters at the John Hall and Company booth.
In addition, we visited with some of our favorite vendors. Check out our "Best of 2023 BuckMasters Expo"!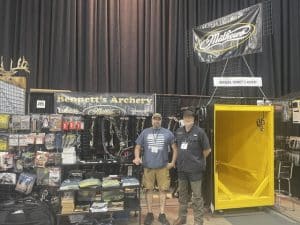 Bennett's has a great selection at the 2023 BuckMasters Expo. Mike Bennett founded Bennett's Archery in 1992. After his 24-year service in the United States Air Force, Mike created a store for archery enthusiasts. The shop offers a 20-target outdoor 3D range. In addition, there is an indoor facility for bow sighting and practice. Mike's passion for archery is reflected in his over 30 years of shooting bows and 25 years of teaching archery. Together with his son Travis and their staff, they share their love for archery. Obviously, they provide customers with the best products and services backed by their experiences. This team is a wonderful resource for beginners seeking expert guidance. In addition, they provide the best insights to experienced archers looking for top-notch equipment.
We love shopping American Stutter every year at the BuckMasters Expo.
American Strutter is rooted in the traditional values that underpin the very fabric of our nation. At its core, this company exalts our Savior, Jesus Christ. Furthermore, it aligns with the conviction that our country was founded as 'One Nation Under God.' This allegiance to faith stands as the foundation for any accomplishments. Their inception was driven by a profound passion for hunting—particularly their love for the magnificent wild turkey—an emblem of nature's brilliance.
American Strutter's vision is steeped in the grandeur of a Tom strutting across the landscape. Markedly, they craft clothing that reflects style and confidence. And bridge the gap between hunting clothing and everyday fashion, from their T-shirts to Turkey Calls.
This is always a fan-favorite product at BuckMasters Expo.
Wicked Hen Game Calls has made a name for itself. They are based in Columbus, GA. Wicked Hen takes pride in their beautiful designs. With a commitment to excellence, their calls are meticulously crafted to capture the essence of real turkeys. The effectiveness of their calls in the field is a testament to their expertise. Hunters can rely on their products to lure in wary toms.
These guys are always great to talk to at BuckMaster Expo about current policies and regulations.
Silencer Central stands out for its commitment to making a meaningful difference. They empower their customers with accurate information through in-depth legal expertise gained from engaging with ATF compliance and collaborating with legal professionals. With a proven track record and unwavering credibility, Silencer Central is dedicated to supporting outdoor enthusiasts and upholding the right to bear arms. They put every customer at the forefront of their mission.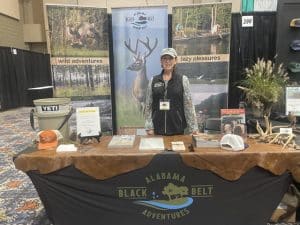 Always a first stop at BuckMasters Expo to learn about current information and hunting in the Black Belt.
The Alabama Blackbelt Adventures Association (ALBBAA) is a non-profit organization that champions outdoor recreation and tourism across the 23-county Blackbelt region, from Mississippi to Georgia. Central to their mission is recognizing the Blackbelt's acclaimed hunting and fishing prospects.
This area contributes a staggering $1.1 billion annually to the economy and supports nearly 25,000 jobs, according to a 2019 study. B.A.S.S. founder Ray Scott and Buckmasters founder Jackie Bushman, have rallied behind the region, declaring it a "hunters' paradise" and a hub for world-class fishing. In addition to hunting and fishing, the Blackbelt offers activities like canoeing, horseback riding, hiking, whitewater rafting, and birdwatching.
Loved seeing this new technology at BuckMasters Expo. Very impressive!
Wise Eye Data Cam stands out for their exceptional clarity in capturing photos and enabling easy identification of target bucks. These cameras go beyond visuals, capturing crucial data such as moon phase, temperature, wind direction, wind speed, and barometric pressure. This information allows hunters to cross-reference sightings of target bucks with precise data, forming the basis for predicting buck movement. Integrating their "PredictaBuck™" software further enhances this predictive capability, making WiseEye Data Cams a tool that captures moments and empowers hunters with valuable insights for a more strategic and successful hunting experience.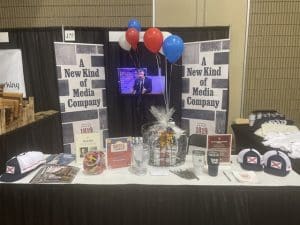 It was great meeting the 1819 staff at the BuckMasters Expo.
1819 News is a non-profit LLC that takes its name from the year of Alabama's founding – 1819. They deliver news from across the State of Alabama. Aligned with the state's resolute motto, "We Dare Defend Our Rights," 1819 News is committed to providing news with unwavering integrity and aligning with the values that define Alabama. The team at 1819 News brings forward stories that encapsulate the essence of the state and its people.
In conclusion, there were so many great vendors at 2023 BuckMasters Expo. These are just a few of our favorites this year. We hope to see you all next year!
The John Hall and Company team is here year-round to help you with your land-buying or selling needs. We have a 30-year network and a legacy of selling land in Alabama.
Shop our recreational lands for your 2023 hunting season, or call me, Pete Hall, directly at 334.312.7099 to learn more about our services or listings.