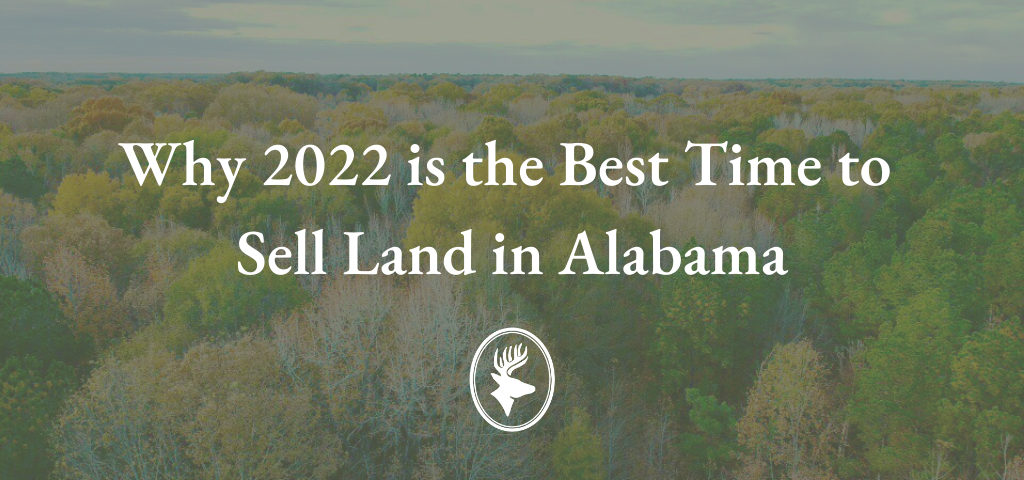 As we begin a new year, you have probably started thinking about your goals for the year ahead: the exercise routine you swear you will accomplish, the stack of books you want to read, and the major financial moves you want to make for yourself and your family. If you own land in Alabama and have considered selling, this could be the best year to list it and maximize your profit.
Seller's Market
Now more than ever, it is the ideal time to sell land. Demand for land is at an all-time high; at the same time, there is a shortage of prime land available on the market. The increased demand and low supply have caused land values to increase by around thirty percent.
There are a number of factors that have contributed to the current seller's market: low interest rates, more expendable income, and an increased desire to escape city life.
Low Interest Rates
The Federal Reserve typically lowers interest rates during periods of economic decline and uncertainty. As the economy continues to recover from the effects of the coronavirus pandemic, interest rates remain at an all-time low, and experts expect them to stay low as we head into the new year. The rates have brought more borrowers to the market, as they look to lock in their purchase at a low interest rate. The low rates also impact buyers' purchasing power because it directly impacts their overall monthly payment.
More Expendable Income
The Paycheck Protection Program and Economic Impact Payments pumped more cash into the market. The increase in expendable income has allowed people to consider more luxury purchases, including investing in land and property. Buyers are ready to consider big purchases with more money in their bank accounts earning very little interest.
Increased Desire to Escape City Life
As the world locked down in 2020, kitchen tables suddenly transformed into office spaces, and backyards started to feel small. The coronavirus pandemic left many people seeking a place to retreat. It renewed the desire to escape city life for the great outdoors. Whether they want a premier hunting plantation or land on the river, more buyers throughout the state and country have entered the market to purchase beautiful Alabama lands.
Even in a seller's market, the brokerage firm you use to list your property can have a huge impact on how fast the process moves and the return you make on the sweat equity, vision, and stewardship you have poured into your land.
John Hall & Company Difference
The team at John Hall & Company boasts many years of experience helping clients sell land, including premier hunting plantations, investment properties, conservation easements, mini-farms, agricultural land, pastureland, and rural residential lots. In our almost thirty-five years, we have sold over 350,000 acres. Our land consultants are true experts with experience ranging from a Certified Commercial Investment Member (CCIM) to a past president of the Alabama Realtor's Institute. All of our specialists are also landowners who know what is important when considering land sales. From the first call to the closing table, our employees have the skills, knowledge, and connections to walk you through the entire process of selling your property.
Personalized Process with Valuable Services
We know every piece of land is different and unique. The process of listing your property for sale is customized to you and your land. We want to get to know you and answer your questions. What improvements do I need to make to my land? What will help my property stand out to potential buyers? What is my land's true worth?
Our brokers have years of experience and knowledge about managing land and important aspects to consider. We can assess your land and give suggested improvements to make it even more marketable. We work with you to find what makes your land unique and help showcase its one-of-a-kind features to potential buyers. We are also able to provide a free broker's opinion of value to be sure you list at the right price. Our extensive database of comparable sales that gives empirical data on current market prices helps us ensure we are advising you to sell for the correct price. We are familiar with land throughout the state and even know the micro-markets that add value within various counties.
The marketing of your property can also help it sell for top dollar with minimal time on the market. Many firms use a "one size fits all" model to market their listings. Utilizing traditional and digital marketing, John Hall & Company creates a marketing plan customized specifically for your property. Drone footage, email blasts, and our website are just a few of the ways we make sure your listing is properly showcased to potential buyers. We are a local firm, familiar with the area, who can market your property on a local, regional, and national level.
In addition to selling your land, we offer additional services to you. We are skilled at mediation and land division. If your sale involves multiple family members or other co-owners, we can work with you to be sure a fair and equitable division of the land is achieved. We can also provide wildlife management plans, forestry services and timber cruises, and mapping.
Relationships throughout the State of Alabama
All of our relationships are built on the foundations John Hall laid when he started the company: integrity, service, and practicing the golden rule.
We build and foster relationships with all of our clients. Selling your land is an education process for all parties involved. We get to know you and your needs. In addition to answering your questions and guiding you through the process, we'll also ask you questions to find out what your objective is for selling your land. We work to ensure we meet the goals that lead you to sell your property.
Relationships matter when marketing your property too. As a boutique firm, John Hall & Company prides itself on having relationships throughout the state of Alabama. We have qualified buyers ready to purchase property and can connect the right buyer to the land you are selling. We truly love finding buyers who will value and appreciate the land as much as you did. In the current market, the average time it takes to sell a property with John Hall & Company has been virtually cut in half.
Using our network, John Hall & Company sold multiple properties before they even hit the market in 2021. From a thirteen million dollar sod farm to a six hundred and seventy-eight-acre plantation, we had buyers ready and waiting to purchase land.
"Pete Hall and his team helped me by securing a property they had listed in Dallas County. We then added additional property through their relationship with the trust department of the local bank. They also helped connect me with various experts in their field such as foresters, farmers, the local office of the Farm Service Agency and more. " David Chadwick
We also have relationships with other experts. When you become a John Hall & Company client, we introduce you to our network of advisors in the fields of financing, forestry, wildlife biology, surveyors, closing attorneys, and more. Whether you need a land survey or wood infestation report, we can connect you with the right people to get the job done with excellence.
As land values have increased and the time it takes to sell your property has decreased, there has never been a better time to sell your land. Are you ready to list your property? John Hall & Company has almost thirty-five years of experience helping families buy and sell land in Alabama. We are ready to help you through the important decision of selling your property. Our team of experts is here to guide you through the process and help you make the most money from the sale of your land. Give us a call today.