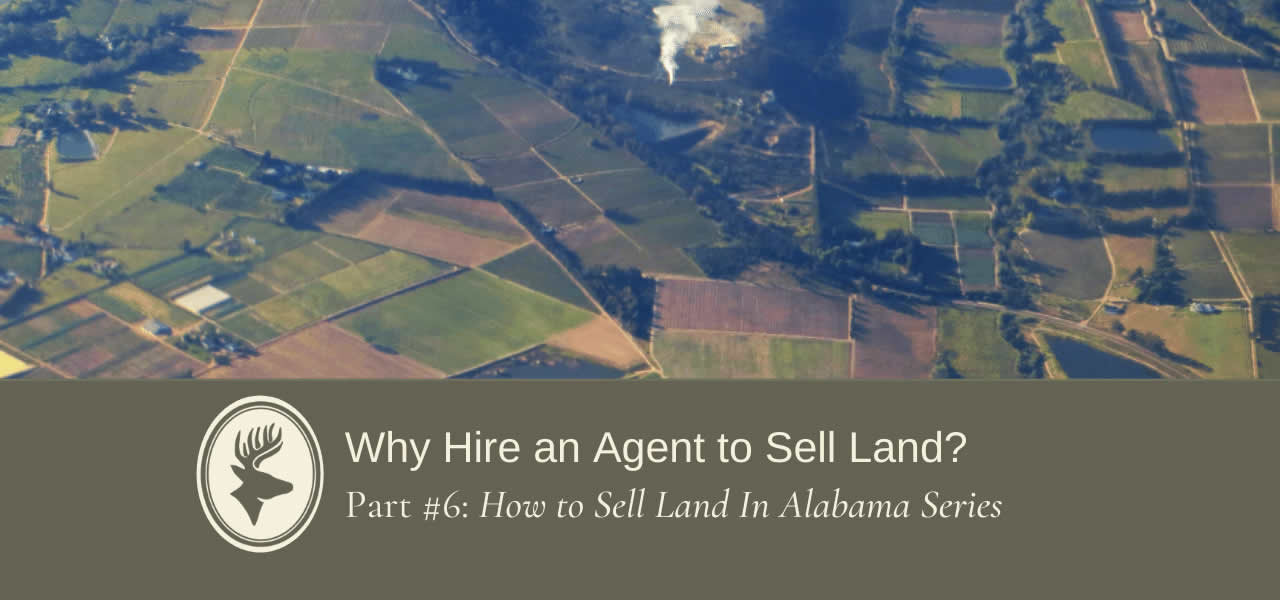 John Hall and Company has over 35 years invested in selling land in Alabama. Today, we answer the question, "Why Hire an Agent to Sell Land?" The article highlights the perks of hiring an experienced and knowledgeable real estate agent who specializes in the sale of land in Alabama. The question landowner ask themselves when thinking about selling their property is,
"Why should I hire an agent to sell my land? Won't I save money selling my land myself?"
At times it may seem more beneficial to list your property "For Sale by Owner". But more times than not, hiring an expert to do the job is the best move. The right land agent will save time, money, and headaches.
Agents Must Have Experience Selling Land in Alabama
A real estate agent's biggest asset would be their experience. When I say experience, I'm not just referring to how many years that agent has been in the business. There are multiple factors that give a land agent "experience".
An experienced and qualified land agent will be able to inform not only the seller but every potential buyer that is interested in the property about the features of the property. Much of the knowledge a land agent has acquired about land comes from dealing with land day in and day out.
Agents Negotiate the Land Selling Price
A good land real estate agent contributes to controlling the negotiations. The agent is the person in the middle is a useful way of handling negotiations while keeping emotions out of the decision-making. Clients relying on the advice of a well-experienced land agent can oftentimes mean walking away from the closing table with more money in your pocket.
Experienced real estate agents thoroughly know the process, know how to counter offer, understand terms of the contract, and know how to get the deal closed.
Agents Need a Network of Land Resources Across Alabama
A good land agent will have contacts and references from their experience working in the land industry daily. We refer our clients to the trusted and true professionals across the state from an estate attorney, a registered forester, financing options, to all the needs related to selling property.
Agents Research the Property Value
The big question is
"What is my property worth?"
A real estate agent who specializes in land sales will evaluate and establish a value for your property. Your land agent will provide you with their Brokers's Opinion of Value or "BOV". This will show you the price properties similar to yours are selling for in the area and the differences those properties have compared to yours. Once an agreement can be made on the value, then the agent will provide you with a marketing plan. Different properties attract different buyers. A real estate agent can get your property in front of the right people looking for properties like yours.
Register for a free "Broker's Opinion of Value" with a John Hall and Company agent.
Agents Market Properties to Sell
We give your rural land the maximum amount of exposure which is critical. Our job is to bring you the buyer who is willing and able to buy your property.
We promote and advertise your property through:
e-newsletter
land real estate website directories
email blasts
social media
John Hall and Company website directory
flyers
brochures
word of mouth
signage
outdoor expos, etc.
The advertising avenues we use are targeted at different pools of buyers who are attracted and interested in specific types of properties.
Agents Sell the Land
The next perk of hiring a real estate agent who specializes in land sales is the capability to show the property. We show land when buyers are available- weekdays, weekends, mornings, and afternoons.
The goal is to give an accurate evaluation of a property. Our agents are equipped with UTVs, ATVs, and 4-wheel drive trucks. Agents walk the property when needed to make sure it is properly shown. John Hall and Company know that buyers cannot make a true assessment of land through a car window on the side of the road.
Why hire an agent to sell land?
Listing your property with a real estate company is a decision that you as a landowner should take seriously. Having an experienced, hardworking, and knowledgeable agent to represent you in the sale of your property is a decision that you won't regret. Each listing is an investment for John Hall and Company. We work hard to sell all listings and to get a return on your investment. Call today and interview us to sell your property (334)270-8400.
Click here to learn more about our free "Broker's Opinion of Value" we offer future clients.